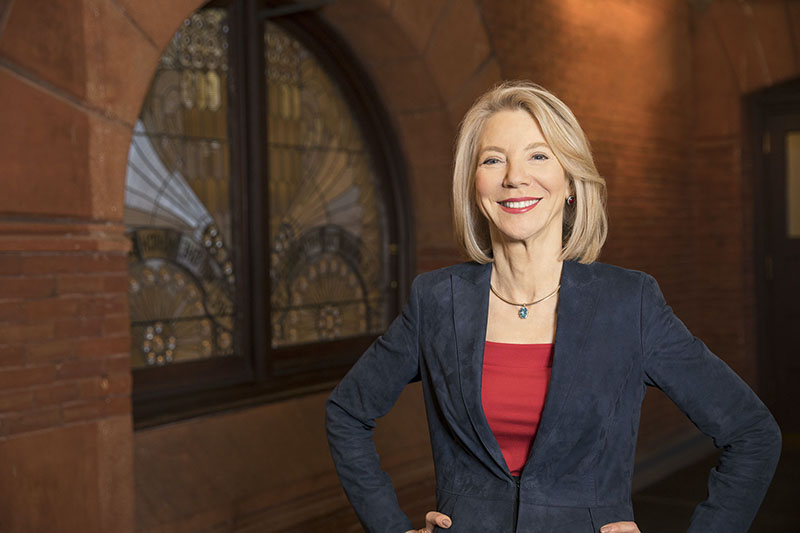 Penn President Dr. Amy Gutmann
Christopher H. Browne Distinguished Professor of Political Science in the School of Arts and Sciences
Professor of Communication in the Annenberg School for Communication
About the President
The eighth President of the University of Pennsylvania, serving since 2004, Amy Gutmann is an internationally renowned leader. Named by Fortune in 2018 as one of the "World's 50 Greatest Leaders," Gutmann is a prominent advocate for access to education and health care, for innovations borne of multi-disciplinary collaborations, and for the transformative impact of universities, locally, nationally, and globally. In 2016, Penn announced that President Gutmann's contract had been extended to 2022, making her the longest-serving president in Penn's history.
In her inaugural address, President Gutmann proposed a bold vision, the Penn Compact, whose strategic goals of Inclusion, Innovation, and Impact have propelled Penn forward during an era of transformational change.
Inclusion
Penn's all-grant policy for undergraduate financial aid, based on need, is the largest in the country, providing students and their families with more than $2.6 billion in grants since its implementation in 2008. The cost today of a Penn education for aided students has decreased by 19 percent (in inflation-adjusted dollars) throughout President Gutmann's 17-year tenure. A first-generation, low-income college student herself, President Gutmann has more than doubled the number of students from first-generation, low-income, and middle-income families attending Penn.
Innovation
President Gutmann created an innovation ecosystem on Penn's vibrantly expanded campus, where researchers and entrepreneurs partner to move discoveries into the marketplace. The Penn Center for Innovation, created in 2014, fast-tracks Penn discoveries and technologies to meet social needs. Opened in 2016, Pennovation Works is a former 23-acre heavy industrial site close to Penn's academic campus that Penn purchased and transformed into its innovation campus with its Pennovation Center as flagship business incubator and laboratory.
Impact
Transformative initiatives underscore Penn's positive impact on its community, society, and world. In 2020, President Gutmann announced a historic commitment by Penn of $100 million to the School District of Philadelphia (SDP), the largest private contribution ever to the SDP. The gift provides $10 million every year for 10 years to remediate asbestos, lead, and other environmental hazards in the city's public school buildings. Penn also has invested more than $25 million over the past 15 years in its local partnership public school, the top-performing Penn Alexander School. In 2013, Penn also began expanding its partnership with the Henry C. Lea Elementary School, and Penn Graduate School of Education coordinates partner programs at Lea and hundreds of other programs in 250 public schools in every catchment area throughout the School District.
On the global front, the fall 2016 opening of the Perry World House on campus and the spring 2015 opening of the Penn Wharton China Center in Beijing mark the launching of major new sites for University-wide initiatives that promote global solutions to challenging problems, and bring the world to Penn and Penn to the world. The President's Engagement and Innovation Prizes were launched, in 2015 and 2016, respectively, which award graduating seniors funding and advising to get their impactful startups off the ground. In 2017, President Gutmann opened the Penn Biden Center for Diplomacy and Global Engagement in Washington, D.C., which serves as a hub for diplomacy, foreign policy, and national security dialogue. 
To ensure the support of these and many other initiatives well into the future, President Gutmann has helped to raise more than $10 billion for Penn since 2004. The University concluded the largest fundraising campaign in its history in 2021 with the $5.4 billion Power of Penn Campaign, which followed the Gutmann-led $4.3 billion Making History Campaign. Financial aid has tripled, endowed faculty positions increased by over 200, and Penn's endowment has more than quadrupled over the course of Gutmann's presidency.
Gutmann created the Penn Integrates Knowledge (PIK) University Professorships, a unique University professorship program, that brings preeminent faculty to Penn from around the world. PIK University professors hold joint appointments in two or more of Penn's 12 schools. Penn has created the widest range of new interdisciplinary majors, research, and teaching programs, academically based service learning courses, and massive open online courses (MOOCs) that span Penn's 12 schools.
President Gutmann also has pushed Penn to the forefront in civic engagement by converting an abandoned parking lot into Penn Park, a 24-acre urban oasis opened in 2011 that connects Penn's campus to the center of Philadelphia. Design Philadelphia called Penn Park an "urban sanctuary" in the city. In thinking green, President Gutmann has also led efforts to establish a Climate Action Plan in 2009, which has been revamped every five years since. In 2021, the University announced an expanded set of goals to combat climate change, including reducing net greenhouse gas emissions from Penn's endowment investments to zero by 2050, and ceasing any new commitments to private equity vehicles dedicated to investments in fossil fuel production. President Gutmann also announced the addition of a new President's Sustainability Prize to the President's Engagement and Innovation Prizes.
President Gutmann is the Christopher H. Browne Distinguished Professor of Political Science and Professor of Communication in the Annenberg School for Communication, with secondary faculty appointments in Philosophy in the School of Arts and Sciences and the Graduate School of Education. She has published widely on the value of education and deliberation in democracy, on the importance of access to higher education and health care, on "the good, the bad, and the ugly" of identity politics, and on the essential role of ethics—especially professional and political ethics—in public affairs.
Gutmann continues her pathbreaking scholarship as Penn's president. In August 2019 she published her 17th book, co-authored with Penn Integrates Knowledge Professor Jonathan Moreno, entitled Everybody Wants to Go to Heaven but Nobody Wants to Die. Based on her work as Chair of the Presidential Commission for the Study of Bioethical Issues, the book is an incisive examination of bioethics and American health care. NBC News Chief Foreign Affairs Correspondent Andrea Mitchell called it "required reading for anyone with a heartbeat." In 2020, Moreno and Gutmann co-wrote "Pandemic Ethics," the afterword to the paperback version of the book.
Appointed in 2009 by President Barack Obama, Dr. Gutmann chaired the Presidential Commission for the Study of Bioethical Issues for seven years, during which time the Commission published 10 reports on major issues including pediatric vaccine testing, privacy and progress in whole genome sequencing, protecting participants in human subjects research, and preventing and responding to public health crises such as Ebola and Zika.
She has served on the Board of Vanguard since 2006, and has been a member of the Board of Directors of the Berggruen Institute since 2014, also serving on the Berggruen Philosophy Prize Jury since the Prize's inception. In addition, Dr. Gutmann is a member of the American Talent Initiative, which works to collaboratively increase access to higher education for highly talented, low-income students, and is a member of the America 250 Commission, established by Congress to help the U.S. commemorate its 250th birthday in 2026. She was a member of the National Commission on the Humanities and Social Sciences, which was convened by the American Academy of Arts and Sciences (2011-13). She was elected and served as Chair of the Association of American Universities (2014-15); served on the Board of the National Constitution Center (2007-19); and was a member of the Knight Commission on Trust, Media, and Democracy (2017-19). 
Dr. Gutmann has been honored with the Harvard University Centennial Medal (2003), the Carnegie Corporation Academic Leadership Award (2009), was named one of the "150 Women Who Shake the World" by Newsweek (2011), and received the Anti-Defamation League's Americanism Award (2014), the Urban Affairs Coalition's Doer Award (2015), the Lucretia Mott Award from Women's Way (2017), and the Philadelphia Inquirer Industry Icon Award (2018). She was named one of Fortune's "World's 50 Greatest Leaders" (2018). In 2019, Dr. Gutmann was honored with the William Penn award, as well as the Pennsylvania Society's coveted Gold Medal for Distinguished Achievement. In 2020, she was awarded the Inclusive Leaders Award from GlobalMindED. She is an elected member of the American Philosophical Society, the American Academy of Arts and Sciences, the National Academy of Education, and is a W.E.B. DuBois Fellow of the American Academy of Political and Social Science. Dr. Gutmann previously served as President of the American Society for Political and Legal Philosophy. She is a founding member of the Global Colloquium of University Presidents, an advisory group to the Secretary General of the United Nations. She has received numerous honorary degrees, including a Doctor of Humane Letters from Johns Hopkins University (2017), Doctor of Laws from Columbia University (2012), and was named an Honorary Fellow of the London School of Economics (2013). 
As the leader of Philadelphia's largest private employer, Dr. Gutmann heads one of the Commonwealth's most powerful economic engines, with an estimated total economic impact of $21.5 billion annually in the region. As part of that impact, the University has made substantial and far-reaching investments in its own physical infrastructure. Since 2006, Penn's evolving campus master plan Penn Connects has added 8.6 million square feet of new construction, and reinvested in 3.4 million square feet of renovated space while also adding more than 30 acres of new open space. These capital achievements represent a combined public and private investment of $6.8 billion. 
In addition to those noted above, selected highlights of President Gutmann's tenure at Penn include:
Undergraduate applications have grown from 18,282 to 56,333 for the Class of 2025. 
The undergraduate financial aid budget has more than tripled from $84 million to $259 million annually. Forty-six percent of Penn's undergraduate students received grant-based financial aid in 2020-2021, with an average package of $56,095—more than the cost of tuition. 
The recruitment of 28 Penn Integrates Knowledge (PIK) University Professors. 
More than $10 billion raised for Penn through the Making History and the Power of Penn campaigns. Gutmann is the only Penn president to run two capital campaigns, both the largest by far in the University's history. 
Penn's endowment has grown from $4.1 billion to $20.5 billion. 
Creation of a $100 million Action Plan for Faculty Diversity and Excellence, resulting in a 33% increase in female faculty and 53% increase in underrepresented minority faculty. 
Creation of the President's Engagement Prizes and President's Innovation Prize, the largest student innovation prizes of their kind in the country. 
Signature capital projects, such as the Singh Center for Nanotechnology, Lauder College House, Perry World House, the Pennovation Center, Golkin Hall, Weiss Pavilion, the Stephen A. Levin Building for Neural and Behavioral Sciences, the Ronald O. Perelman Center for Political Science and Economics, and the Wharton Academic Research Building. 
A 29% increase in sponsored research to nearly $1 billion annually, despite flat federal support. 
The creation of a state-of-the-art Penn Medicine complex, which fully integrates basic and translational research with patient care, and has grown to include major new facilities (Perelman Center for Advanced Medicine, Roberts Proton Center, Smilow Translational Research Center, and the new Pavilion, which opened in 2021), Chester County Hospital and Lancaster General Hospital, and new physician offices and outpatient facilities across Philadelphia, southwestern Pennsylvania, and southern New Jersey. 
In 2020, President Gutmann and her husband Michael Doyle made a $2 million gift to the School of Nursing's Innovating for Life and Living Campaign, as part of the University's Power of Penn Campaign. Their total giving to Penn exceeds $4.5 million. This gift created the Gutmann Leadership Scholars Program at Penn Nursing for undergraduates and graduates who are passionate about making lasting impact in underserved urban and rural communities. 

 

In 2021, the launch of a

 

$750 million investment

 

advancing Penn's pathbreaking contributions to innovative and impactful areas of medicine, public health, science, and technology.
Prior to her appointment at Penn, Dr. Gutmann served as Provost at Princeton University, where she also was the Laurance S. Rockefeller University Professor of Politics. She was the Founding Director of the University Center for Human Values, an eminent, multidisciplinary center that supports teaching, scholarship, and public discussion of ethics and human values. Also at Princeton, she served as Dean of the Faculty and as Academic Adviser to the President, and was awarded the President's Distinguished Teaching Award.
Dr. Gutmann graduated magna cum laude from Harvard-Radcliffe College. She earned her master's degree in Political Science from the London School of Economics and her doctorate in Political Science from Harvard University. She is married to Michael W. Doyle, a University Professor at Columbia University.
Revised November 2021.